Passive Optical Network (PON) Digital Infrastructure Powers Thor Equities' 800 West Fulton Vision to Become the Smartest Building in Chicago
Overview
Thor Equities Group invests in innovative businesses globally and owns properties in key urban markets throughout the United States, Europe, Canada, and Latin America. After acquiring their newest project in Chicago at 800 West Fulton Market, Thor Equities sought out a technology partner to lay the digital foundation for the building while it was in its early stages of construction. Andorix was chosen to build an in-building network infrastructure using Passive Optical Network (PON) technology that meets the building's energy efficiency and sustainability goals and achieve their vision of delivering the highest levels of wellness, connectivity, and building intelligence.
Challenge
Thor Equities' digital concept was to build the smartest building in Chicago. To coincide with their sustainability and wellness efforts, they wanted to leverage a complete solution powering the entire building along with managed services to help with system integration for their tenant amenities ecosystem. Rather than a traditional fragmented network approach, Thor Equities looked for a next generation optical network technology that has a long technology lifespan and easily scalable to capture the myriads of sensor data installed throughout the building, including indoor environment quality (IEQ) sensors, people counting sensors, lighting, HVAC and temperature control sensors to name a few. In addition, Thor Equities wanted to work with a team that would satisfy their quality and timeline expectations.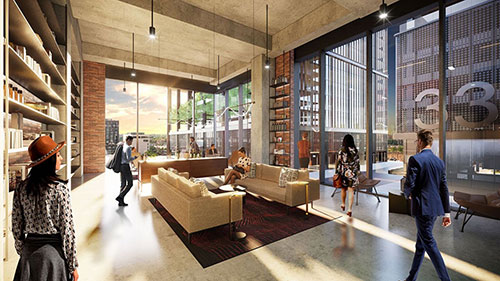 Solution
Andorix was brought on as the technology partner to build a converged PON network that would enable 800 West Fulton Market's ecosystem of tenant building applications and services . Andorix enabled the single pane of glass approach by converging all data onto a single network which is then fed into Buildings IOT's visualization platform. By contributing to the creation of this advanced tenant experience platform, Property and Operations Managers have the tools to analyze building data and optimize amenities on the converged network, making it easier to manage and reduce costs. After completion of the PON network, Andorix continued to help in the process of working with vendors to complete Thor Equities list of desired amenities and services for their tenants.
Results
800 West Fulton is seen as one of the largest smart building projects in Chicago with Thor Equities and partners delivering the highest levels of wellness, connectivity, and building intelligence. Early involvement was emphasized as a key component in developing the project because it allowed for joint efforts when creating the foundation that would enable all applications and services for the building. Thor Equities engaged Andorix during the planning stages of the building so that their partners could collaborate and develop solutions in conjunction with the construction of the building.
The in-building converged network went live in February 2021 and over a 6-month period, applications and services were added with the help of the Andorix team. Andorix merged all networks including security, lighting, and heating into a building automation system so that a visual floor plan could be generated with real-time data for efficient decision-making regarding sustainability and wellness of tenants. As a result, a mobile application was created to provide seamless tenant experience including scheduling meetings, control space conditions, temperature control, and occupancy sensors – saving them costs in energy and utilities.
Highlights
Telco-grade PON infrastructure with a lifespan of 20+ years that can easily scale to meet future needs
Able to share environmental quality stats with their tenants
Improved energy efficiency, better air quality, and lower operating costs for tenants
Collaborated with the Property Management Team to build an ecosystem of tenant amenities
Enabled mobile application providing seamless tenant experience
Provided Wi-Fi throughout the building's guest spaces so that tenants could work from anywhere

In order to meet our vision of making 800 Fulton Market the smartest building in Chicago, we needed to partner with a technology provider who has successfully installed fibre-based network infrastructure in commercial buildings. We chose to work with Andorix not only for their proven converged network technology in built buildings, but also for their ongoing managed service approach to help us integrate various building system data in a secure and operationally-efficient manner.
Peter McEneaney
Senior Vice President of Development and Construction at Thor Equities
The Journey to Smart Starts with Andorix