Enabling Smart Buildings at QuadReal
with Managed Passive Optical Network (PON)
Overview
QuadReal Property Group, headquartered in Vancouver, Canada, is a global real estate investment, operating and development company. As part of their digital transformation strategy, QuadReal sought to improve their foundational digital connectivity infrastructure, which would allow them to enable various smart building use-cases. Successfully implemented, these use-cases would improve operational efficiency, and enhance services provided to the tenants and customers, differentiating their properties in the market.  After researching various solutions, the Digital Innovation team at QuadReal engaged Andorix in a pilot project to deploy a converged network built upon Passive Optical Network (PON) technology by DZS.
Challenge
QuadReal is a real estate industry leader, driven to provide resilient financial returns, enhance asset value and optimize customer experience. To further contribute to these outcomes leveraging enhanced smart building technologies, their digital infrastructure foundation had to be scalable across a global portfolio and be ready to satisfy the connectivity needs for building systems and IoT devices now, and well into the future.
Traditional networking solutions typically deployed to satisfy building system and IoT connectivity needs were ruled out for being too capitally expensive to deploy and maintain, too energy intensive, and for requiring life-cycle infrastructure upgrades in far to frequent intervals to remain current. To also meet QuadReal's commitment to sustainability and the reduction of its carbon footprint, a solution would have to be energy and materials efficient. The network serving as the foundation for optimizing building operations and providing services to QuadReal's tenants and customers must be secure, have an extended lifespan, be proven in mission-critical environments and highly scalable.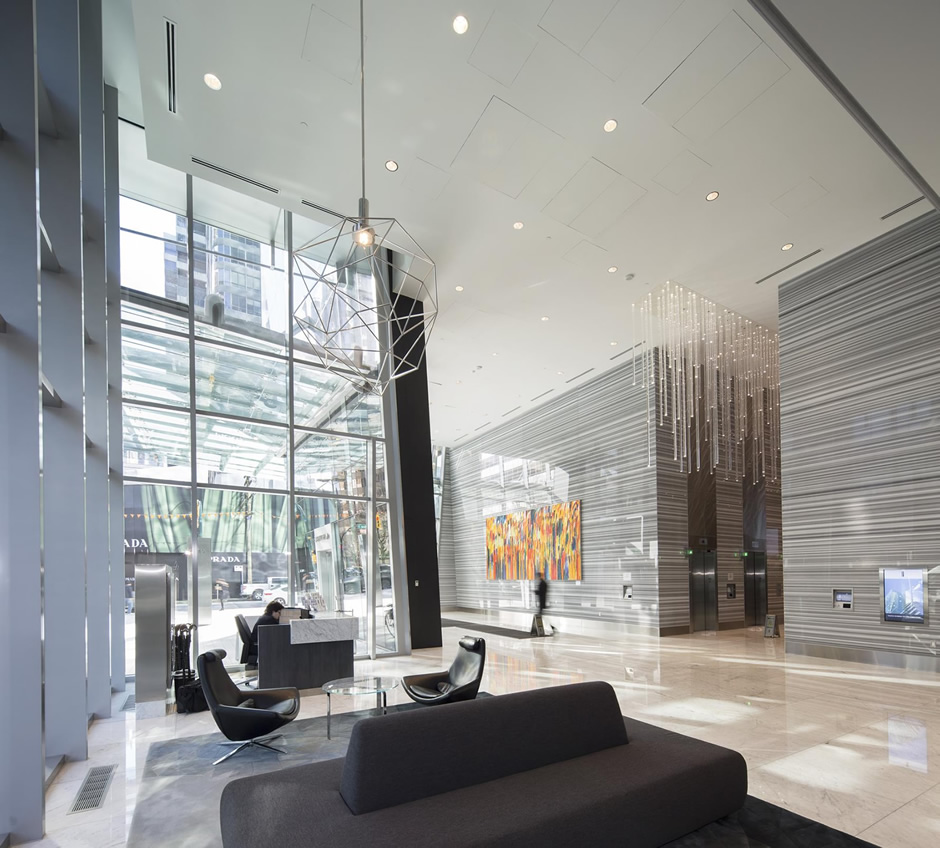 Solution
Andorix was selected to deploy its Managed PON solution, built on DZS' FibreLan technology in pilot at 745 Thurlow, a QuadReal building located in the heart of downtown Vancouver. Utilizing primarily "passive" networking equipment that use light instead of electrical signals, the PON infrastructure satisfied the requirement for a long life-span solution, that would consume less energy and be more economically viable than traditional networking solutions.
By connecting all building systems at the property (HVAC, lighting, access control, video surveillance, energy metering, elevators, and Wi-Fi), Andorix created a converged and secure digital infrastructure that enables data & system integration to serve all of QuadReal's smart building needs.
Results
The success of the pilot project resulted in the decision to deploy the PON technology to over 40 buildings across the QuadReal Canadian portfolio, standardize on the technology for all new real estate development projects, as well as roll-out implementations at buildings in the United States.
With all building systems connected to a single digital infrastructure, Andorix has enabled data streaming in real-time to identify device status and health and created a secure and reliable platform for operational and tenant connectivity services. Further, the PON infrastructure served as the foundation to deploy wireless IoT sensor solutions (People Counting, Indoor Air Quality and others) which assisted in enhancing QuadReal's COVID-19 response to deliver a safe and healthy environment for the occupants and visitors of their buildings.
Leveraging PON technology and Andorix managed services, QuadReal's real estate portfolio now has a proven, secure, and trusted, digital foundation that will support their buildings for years to come. Overall, Andorix was able to ensure a proven, highly secured and trusted, digital foundation that would support QuadReal buildings for years to come.
Highlights of the Andorix Managed PON Solution at Quadreal
Energy savings of 70% versus the traditional networking solutions
Led to approximately 65% space savings within the building Risers
Service costs were between 50-70% lower (building dependant)
Cost savings of 65% compared to traditional networking solutions
Reduces energy usage and is sustainable
Lifespan that can exceed 20 years

The ability to connect and centrally manage devices will not only ensure the optimal operation and security of all buildings systems – it will also hyper-accelerate the deployment of smart building use cases to drive high-value outcomes.
Thano Lambrinos
VP, Smart Building Technology and Digital Innovation at Quadreal